Interview by Jon Woods
---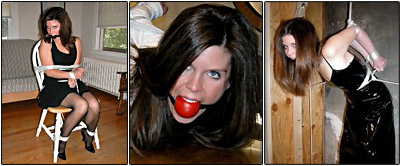 Where are you on the web?
At BondageNymphs.com and BondageThemes.com.
How did you get started in your career as a bondage photographer?
It came in a round about way, I was always interested in bondage personally and haunted Lorelei's chatroom back in late 1998 when an idea of someone there thought it was a neat idea to meet somewhere and put faces to the screen names. Cleveland was the city of choice. I was to fly in for this get-together but on Wednesday just 2 days before my flight, Air Canada went on strike and my flight was cancelled, I was determined to go so I went to Walmart, put a set of tires on the car and when I finished up taking photos for a magazine I was working for on Thursday suppertime, I loaded up my gear and began the drive to Cleveland (1600miles +/-). I arrived Friday evening around 9 pm driving pretty much straight through. I was beat, but managed to have a great time. I met several established Models/Producers while there, Lorelei, Jon Woods, Dorothy Laine, Monica, and others who became models and producers shortly afterwards. Sunday night there were only a few of us left who were either flying out later that night or like me driving out on Monday morning. A group of us met in JBRoper's room and we talked and whatnot. In the room was Vesta and Lady Karena who wanted to get a website launched, Bondage Divas and had a few photos to show us. were got to talking further and plans were set in motion for me to fly to Florida in October for a meeting to be their webmaster and during that trip we shot 3 days pretty much straight getting come content for the site. This began my hobby/career as a bondage photographer.
How long has Bondage Nymphs been on the web?
I registered the name in 2000 and launched the website in February 2001.
Did you formally study photography or were you self taught?
Self taught for the most part, but in high school I did a lot of photos for our year book and did most of the darkroom work (no digital photos in those days folks, just a dark room, chemicals and a masochistic streak to see the results of my efforts and many times the lack there of.)
How do you find the models who appear on your site, that is, do you run ads in
newspapers, contact them via the internet, or go by referrals from other models?
For the most part I have gone to conventions where there are models and book them in person.
Are there any particular difficulties that stem from operating a bondage site from Canada?
Finding models has been a problem but its not so much anymore. The main issue now is finding and keeping a billing company, back a couple of years ago when Visa went apeshit over adult material I was with CCbill and was forced to drop them because Visa Canada did not have a contract or whatever with CCbill and Visa USA, I found away around that, paid their outrageous fee and was doing ok until that deal ended, Now my billing is handled overseas without issue. On the legal aspect of it, so long as the material isn't deemed obscene and the models are over 18 its pretty smooth sailing. I have had major run ins with Canadian and US customs but where the laws are so vague and my material isn't obscene nothing came of it other than the long delays and interviews with various agencies on both sides of the boarder.
Do you and the models discuss code words or safety signals prior to the shooting?
I shoot pretty tame stuff, I bring up the safety issues during the initial interview but so far no model has requested one, and even though a gag is used in the shoot, it is tested out for to make sure there are no problems. With experienced models there have been no issues my main concerns are with women who model for the first time, we go over everything in detail during the initial interview.
Do you let the models make any suggestions to the shoot before or during it?

To some degree I do with experienced models, with newbies, not so much. One in particular who is a good friend likes to make suggestions, gestures and generally be a brat during the whole thing, but we get the best shots I have taken for the most part, but is a true pro and it really adds to the photos.

Who (without naming names) was the most difficult model for you to work with?

One in particular comes to mind, it wasn't so much a problem with her (even though she totally wasn't ready), but her escort interfered with the shoot a lot trying to turn it into a 'play session'.


Who was the most professional model you enjoyed working with?
Any model who can have fun, and get the results I am looking for is enjoyable to work with.
What was your first bondage shoot like?
Other than shooting with Vesta, Karena and Vesta's husband for Bondage Divas back in 1999 (which doesn't really count as I was there only as a second camera) I shot with a girl I met in Cleveland earlier in 1999, Delerium, in November of 1999, She was my first real bondage photo gig. Delerium went online with her own website in 2000 with Twisted Smile.com I had shelved the photos as they didn't come out very well (no fault of Delerium) dark and somewhat grainy from lack of proper lighting, but are now all online as a part of history I guess as well as all the photos I took of Vesta and Karena in October of 1999.
What's a typical bondage shoot like?

HOT!... heheh the lights are hot, literally but a typical shoot now is relaxed, hopefully fun and ideas bounced around some. I try to keep things relaxed and get over my shyness, I tend to open up more and get more relaxed during a second shoot and the results tend to be better.

What types of storylines or themes do you prefer for your photo sets?

D.I.D. is the main theme of my photography, I also like some aspects of the heavier BDSM but haven't found a model yet locally who is comfortable doing this kind of work so it's on the back burner.

Is there anyone whose photographic talents you most admire? Do you have any influences?

There are so many, I wouldn't/couldn't pick just one, Eric Kroll, Cory Thompson (Mr. T), Jim Weathers, Felix Dartmouth, Hywel Phillips and many others, I am influenced by anyone it seems, I see stuff others have produced and go wow, that's cool and work towards putting a little bit of that in my work, maybe someday I will have my own style (There is one model out there laughing her ass off now :) cause I don't have any style)

Who are some of the notable models you've worked with, or who appear on your site?

I tend to shy away from top fetish models but have worked several well known models, lately I have shot with Tomiko, Angelica Vamp, Ricki, Erika Kole, in the past I have shot with Lorelei, Vesta, Delerium, Sara Nychols, Dorothy Laine,
Kelly Lynn, Chrissy Daniels, Kiana, Damsel, Itty Bitty, Kelly Kole, Lisa Tyler, there are others I know I have missed. Locally I have worked with Ariel, Tegan, Shannon, Miss Ali and a few others, there are some behind the scenes with other photographers/producers as well.

Tell us about one of the worst bondage shoots you can remember.

I guess the worse one I was ever on was one in a hotel room in the summer time, it was hot outside and hotter yet inside. I had booked a 4 hour shoot sight unseen (which I don't do anymore) over the internet via email. It started out
ok, but she was cold (it was over 90 degrees in the room) so no air conditioning could be turned on, and when I did turn it on she was under a blanket the whole time. It was like a sauna by hour 3 and I looked like I had run about 3 hours in a marathon through a jungle somewhere.

Describe one of your best bondage shoots that you can remember.

there are so many, its hard to pick one that stands out, I guess the best ones are ones that everyone is relaxed and the model knows how to pose as I am not very good at directing.

Is there anything you haven't done yet, or anyone you'd like to work with?

There is everything I haven't done yet, I have so many ideas bouncing off my skull but very limited skills and money to pursue them further at this point, but it's coming together. There are many models I would like to work with once I work up the nerve and funds to ask them.

What type of model do you prefer to work with -- 'the girl next door', glamorous, gothic...?

So far I have worked with mainly 'the girl next door' looking models, I have a project on the back burner that if I can find the right models for a gothic shoot series I want to do.

In your own opinion, what are some of the qualities that make for a professional model? Conversely, what traits do you think make for an unprofessional model, for example tardiness, lack of motivation or interest, only seeks to be paid...?

In my opinion huh?... if the model shows up on time, doesn't over-book or double book and is pretty much ready and has experience she is professional. There is more to it than that, but those are the big ones from my stand point. Conversely as you mentioned, toss in a interfering escort and that about completes the picture. I have worked with some better known models and for 99% of the time its been good for the most part and minor things are forgotten
about if the photo content is good. This is not to say working with newbies that have no experience are unprofessional, they come into their first shoot not knowing what to expect or do, but if they put in an honest effort and try, they are just as professional as better known models, just lacking in real experience.

Do you feel the internet helped or improve the bondage and fetish industry? Alternately, do you feel that it has had any negative effects on the industry, either for producers or the customers?

I don't know if it truly helped or improve the industry as a whole, I only came onto the scene when the internet was really just gaining steam. Finding bondage or fetish material here where I live in Canada was a rare find in books or
magazines. Its still hard to find. The internet made it more accessible to those who wanted to search it out, that's why I went online in the first place and it was my first or second search engine request the first night I got connected. I would have to venture a guess that the internet has hurt the contemporary publishing of printed fetish to some degree, but from a consumer point of view, it has made finding and buying material much easier. There seem to be a lot more producers out there than there used to be, many come and go but a few have been around a long time.

What is your favorite binding to use on the models?

I like rope for the most part, white or maybe a complementary color to change things up depending on the outfit.

What are some of your favorite gags?

I like ball gags mainly got hooked on the look of them from "A Clockwork Orange", once I saw that scene I was hooked. cleave gags are a close second.

Do you have a favorite position to place models in, i.e. the hogtie, the standing/kneeing/sitting strappado, the frog-tie, chair bound, or something else?

Not really, I like to mix things up, the strappado is ahead by a tad but most new models and some experienced ones have trouble in this position.

What advice would you give to novice photographers and webmasters considering getting into the fetish business?

Don't do it for the money, you most likely will be disappointed and drive an 18 year old truck.

Why do you still do it then?

I hope to be able to do it forever or at least as long as I can hold a camera and tie a knot, but when its not fun and becomes work I will stop, I have a day job, I don't want something that I enjoy turning into a job instead of a mental
getaway from my real world.
Any regrets getting into this field?

Not really, it would be nice to able to show friends and family what I have been up to the past 7 years or so, but I am pretty sure they just wouldn't understand. That's what conventions are for when vacation time comes around each year.

What is your worst memory?

Mostly dealing with the business end of it, I mean to be able to afford to do what little I do, I have to sell the photos. I have some I will never publish. I wish I could make a living at it, but then it becomes just a job, I want it to stay fun and not cost a lot - LOL.
What is your fondest memory over all of your experience in the industry?

So far it has been and always was for the most part, about meeting the people and growing hopefully to the point where I am comfortable with who I am and try to get that in a photograph someday.
Kato.
Kato's work can be seen at BondageNymphs.com and BondageThemes.com.