-- Eric, Find and Bind All the Pretty Girls
---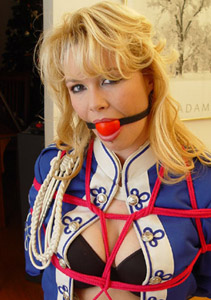 How did you become involved with photography and how did it lead you to fetish photography?
Actually, I became involved in the fetish long before getting into the photography. I have been interested in bondage since early childhood. So as an adult, I began to seek out ladies who wanted to experience bondage. I found that I wanted to find a way to save and savor these sweet experiences so I began photographing my bondage sessions. I am not great photographer, so I make sure to use quality equipment to make up for my general lack of professional photographic skills.
Why did you choose to operate your own fetish website than working for websites or companies?
I had wanted to do a website for quite a while, and most of my friends knew that it was something I wanted to do. But being a true procrastinator I could not quite get myself started. I had the good fortune of hooking up with Monica and Hog of Archway-to-Monica. I began assisting them with photo shoots. I learned a lot from them about the internet bondage business. Eventually circumstances lead to me getting my own site started. I like being independent and being able to present my own versions of how I see bondage, or even how I would like it to be.
What type of model do you prefer to work with -- 'the girl next door', gothic, industrial, or other?

The models that I work with can go from total amateur, to girl next door, to the occasional bondage supermodel. Of course it would be great if all of the models could get their elbows to touch, but what is more important is whether she has that certain look or personality that just screams "Tie Me!!" I am a sucker for a pretty face and a genuine smile. I love models who enjoy bondage. It makes so much difference when they love what they do. It shows in their pictures and it makes the photo sessions lots of fun.

How do you locate the models you work with -- the internet, the recommendations of other photographers, or approach attractive women at a social gathering?

My first few models were friends who were already involved in BDSM. Sandra, Stormy, and Becca were my first models, and they were in the local BDSM community. After that, I met most of my models either through recommendations of other photographers, at conventions, or on the internet through onemodelplace.com.

When viewing a possible model's portfolio or interview a model for an assignment, what qualities do you consider. For example, attractiveness, experience, enthusiasm...?

Attractiveness is always a consideration, but enthusiasm is definitely more important than experience. If a model has a real desire to do bondage work, the photo shoots are always fun. I have had the pleasure of binding several "bondage virgins" and it is a great pleasure to share their first bondage experience with them. Attitude is very important.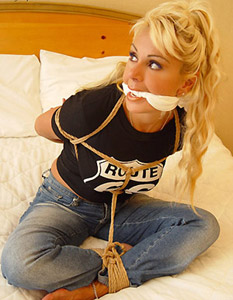 In your personal option, what qualities make for a professional model -- excellent reputation, modeling experience, a willingness to work, or other?
There are many models who come to a shoot without experience or reputation, yet they can be as hard working and professional as the supermodels. Sometimes even more so. They understand the appeal and the beauty of the bondage and they are willing to work hard to the get the right shots. They communicate well and let you know when the ropes are starting to feel tight (or even if they are too loose). They have lots of energy, change costumes quickly, take direction well, and naturally know how to pose. They take pride in putting their best foot forward.
On the other side, what traits do you think make for an unprofessional model, for example tardiness, lack of motivation or interest, only seeks to be paid...?
I would not say that "only seeks to be paid" necessarily makes for an unprofessional model, since many models do consider this as just work. But it usually shows in the pictures. I do not mind a little tardiness. An hour or so is usually no big deal, but anything more than that is just plain unprofessional and they need to know that our time if valuable too. I have only had that problem twice in all my shooting. I have been lucky. Lack of motivation or interest is an occasional problem. It is hard to turn out good photos when the model is just plain unmotivated.

Do you prefer the damsel in distress, love bondage, or other type of scenario for a photo shoot?

I like the Damsel in Distress look, but prefer the love bondage attitude. I like the idea of the model portraying an enjoyment and sensuality about the helplessness of her bondage. Strangely enough, I also like the comedic style of bondage. I love the idea of a "Bondage Sit-Com".

Who has been your role model or inspiration for fetish photography -- Irving Klaw, John Willie, Jon Woods, Jay Edwards, or the detective magazine covers from the 1960s and 1970s?

I was a big follower of the early House of Milan organization so my early heroes were Barbara Behr and John Savage. As Harmony began to take over the market, Jay Edwards became a big favorite. He was doing what seemed to be flawless bondage and photography. Today I enjoy Hywel Phillips' flawless photography. I do very much enjoy Jon Woods' writing and directing. I think he has the most imaginative storylines in the bondage business these days. I especially love it when he combines comedy with bondage.

What advice would you give to novice photographers and webmasters undecided about a career in the fetish industry?

If you have a true desire to do bondage photography or a website, make sure you have all your ducks in a row before starting. It will take a lot of your time and money. You will need to have a decent knowledge of programming, coding, etc. Make sure you have good computer and photographic equipment. Make sure you have a good knowledge of bondage and bondage safety. Always be professional, with your models and with other producers. Your reputation will leave a trail just like fingerprints. Other than that, you only have one life. Do not wait until it is half over before you seek out your dreams.

Thanks, once again for this interview Mr. Roper, it truly is an excellent one. I'm sure the readers can't wait to view your website for themselves.
Mr. Ropers' site is at JBRoper.com.