Interview by Jon Woods
---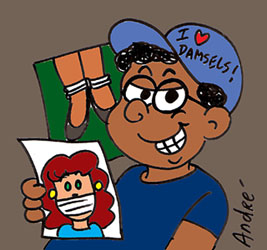 Do you have a website?
My homepage is Andre's Bondage Cartoons. I also have two token gallery sites. My art and photography is at Damsel Theater which is run by Lorelei. More art is at "Andre's Toon Damsels". That site is run by the SweetTies folks.

Did you study art formally, or were you self-taught?
I studied commercial art in college, but I learned comics on my own. As a kid I would draw my favorite characters for hours.
How long have you been involved in the scene as an artist?

Since 1998.

How did you get started in your career as a bondage artist?
One day I was looking through some Harmony bondage mags I had bought and the quality of the artwork was bothering me. I decided I could do a better job than the artists I had seen in the books and in a week I sent out my first
submission to Harmony Concepts.

Which artists and photographers have had the most influence on you or do you most admire?
John Willie and the detective mag covers I saw as a kid in the '70s were a big influence. Bondage artists I admire today would be Phm, Noir, Totoro, Darkhiro and Dan DaFogh. In bondage photography some of my favorites are Lorelei, Jon Woods, Ropexpert, Ken Scott, JB Roper, FM Concepts' Secretaries In Bondage and a guy who calls himself "Phantom". He runs a site called Bound Beauties Photo Salon.

Where do you get the ideas for your drawings?
Usually I get ideas from looking at photos. Other times I think up different themes off the top of my head.

How is your artwork different than what's generally available on the web?
I don't draw women being tortured or beaten and then forced to have sex. That's not for me. I want viewers to look at one of my pix and let their imaginations take over.

How long does it take you to create and prepare one of your drawings?

It varies. Sometimes I can finish four drawings in two hours. Other times it can take over a week. Computer coloring an image can take anywhere from 20 minutes to several hours depending on what effects I'm trying to achieve.

What types of scenarios do you prefer to draw or direct?
Damsel in distress scenarios. I like drawing ladies being held captive in basement or warehouse settings. Sometimes I'll draw an unknown intruder hovering over the lady or I'll add dramatic lighting in the scene.

You recently started producing photographs. How did that come about?
I always wanted to try my hand at bondage photography. As much as I love collecting other producers' work I always felt it wasn't quite the vision I had in mind. At FetishCon 2005, I was able to borrow a camera and hook up with 3 very lovely models: Kordelia Devonshire, Tomiko and Maxine X.

Tell us about your very first bondage photo shoot as an on-screen participant.
Way back during Bond Con 2001. I participated in a shoot for Lorelei's Bedroom Bondage site. Me and Ikaras Jones played a couple of intruders who grabbed Lorelei, tied her up then stuffed her into a cabinet. What a thrill that was! Not only was it the first time I met Lorelei and Jon face to face, but I helped to tie her up!

How was your first bondage photo shoot as a director/photographer?
I was very nervous. Kordelia Devonshire was the first model I ever shot. She was a real joy to work with and she was very patient with me. Jon Woods and Lorelei were on hand to give me tips and advice. I really felt those pix turned out great.

Which medium do you prefer to work with, drawing or still photography?
Drawings first and foremost, but I'm starting to get used to still photography.

What do you enjoy most or what intrigues you the most about photography?

I love the tying up part. I enjoy trying to encourage the model to give me the poses and expressions that I want.

Do you let the models have input to the project before or during the photo sessions?
I love it when a model has a suggestion for a pose or wardrobe, etc. If she's into it that makes me happy.

How do you feel the internet has helped or improved the fetish industry?
When I got my first computer and went on the web for the first time, I was blown away by how much was out there. Thanks to the internet, I learned of many different styles of bondage.

How do you feel that it has hurt or harmed the fetish industry?
Too many websites now competing for an ever shrinking consumer base. The other problem I see are torrents sites, fileshare sites, etc. that can take an entire paysite's output and download it for free.

What is your favorite wardrobe for the models or women in your photos or drawings?
Blouses and skirts. Knee-length dresses with either pantyhose or stockings and pumps (classic, not those 1970s chunky heel things). But would you believe I don't like the look of 6" heels? I would prefer a model would show up wearing 2"-3" heels instead. It looks more "realistic" to me.

What are your favorite binding/rigging materials to use on models?
Rope, either clothesline (detective rope) or light tan rope that sort of looks like hemp. I would also like to try using torn bedsheets.

What are your favorite gags?
Duct tape covering the lower face and thick cleave gags. I really hate ultra thin cleave gags.

Do you have a favorite position to place models in?
I love hogties, and the "classic" sitting position usually on the floor or bed.

Is there anything you haven't done yet (or would like to do) either with your drawings or photographs?
In photography, I just want learn to take better pictures. And to tie the models better.

What type of model do you prefer to draw or work with ­- glamorous, "the girl next door" or other?
I like both. I especially try to draw many ethnic type girls.

What advice would you give to novice artists and photographers about a career in the fetish industry?
Well, for me this really isn't a career. It's more of a labor of love/hobby. As an artist, just keep practicing! Draw as much as you can. Study bondage photos for poses and sketch from the photos. I often get ideas for my damsels outfits from looking at fashion catalogs and such.
As for photography, I'm still learning a lot. All I can say is, keep asking for advice and feedback on your work.

Thanks!
Thanks Andre!
Andre's art, photography, forum and yahoo group links can all be found at Andre's Bondage Cartoons.